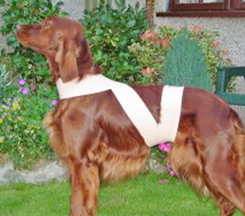 from only £8.95
Mekuti Body Wraps help reduce anxiety in dogs in stressful times such as during firework season or trips to the vet.
Firework fright and fear of thunder is a serious yet manageable condition common to many dogs WITHOUT using any drugs!
Body wraps are being used around the world to bring an animals awareness to their body and away from the source of the fear which could be fireworks or thunder for example
The sense of security given by the wrap also brings confidence, allowing them to release habitual responses and behavioural patterns, allowing them to observe the world around them and respond rather than react to stimuli.
An elasticized strong bandage that has the versatility to be adapted to your animals needs. PLEASE NOTE: if you have a dog who seems disconnected from their rear-end, two wraps can be joined together to make a "full wrap", i.e. one that goes around both front and rear ends*. This can also help dogs with hip-displacia and general stiffness (used for short periods only). You can use just one body wrap for a "half-wrap" around the chest & ribs. It is not advisable to leave an animal un-attended whilst wearing a wrap.
* The manufacturing process of the elasticated body wraps is not exact and lengths may vary by up to 30cm. You will always be able to complete a Half Wrap with one but may need two wraps together to do a Full Wrap.
FREE factsheet: Coping with sound sensitivity
DO NOT LEAVE YOUR DOG UNATTENDED IN A WRAP
If you need to leave them or if you want to take your dog for an extended walk then the T-Shirt or a HotterDog Jumper may be used as safer options.
Firework fright

Thunder

Sound sensitivity

Nervousness

Hyperactivity

Panic

Poor travellers

Older, stiff or arthritic dogs
Body wrap widths:
2" - toy & small (up to small Cairn Terrier) £8.25
3" - medium (up to Collie or small Labrador) £8.75
4" - large (up to GSD or Great Dane) £9.75
"My 10 year old collie was terribly distressed during thunderstorms or fireworks. At first I was sceptical that such a simple idea could work but with the TTouch Body Wrap on he's a different dog and slept through a recent storm for the first time ever. Even when next door's house was hit by a thunderbolt, it was miraculous, everyone else was terrified but he just settled down to sleep! This Body Wrap is marvellous!"
M Houghton, Easingwold
"I am more than pleased with the Body Wrap that I received. It helped comfort my rescue German Shepherd whilst confronting new (scary) situations i.e. traffic, new people etc.. He is now very settled and I have not needed to use it so often. I do keep it with me in case the need arises. Striker loves to be touched and thrives off cuddles and the Wrap seems to do just that! The service I received was 100%. I found Rachael to be wonderfully helpful and understanding and I am recommending Mekuti to other dog owners."
Mrs. A. Bamford
"I am absolutely in shock as to how well the body wrap works. We have had a week of thunder and fireworks and I have now used it 4 times on my rescue dog. Every time within 5 minutes he was asleep, I am so grateful it has worked so well. My poor dog was stressed out for 7 hours every time there was a storm, if it was at night it was impossible for me to get any sleep. I did not ever expect this to work! "
Cath, Wuff Dog Training